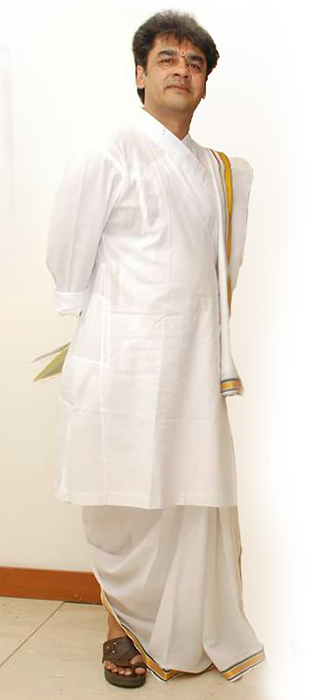 PRANAY GOSWAMI was born on 18th September 1963 in Vadodara. He is the eldest son of Prof. Akshaya kumar Goswami and is the direct descendent of Shree Vallabhacharyaji, the pioneer of PUSHTIMARG. He belongs to Shashtha Griha/Tritiya Griha (Mathura/Kankroli) of Vallabha Samradaya. He belongs to an affluent traditional family.
He studied Commercial Art at the Faculty of Fine Arts, Maharaja Sayajirao University of Baroda. He has done Foundation Course / Graphic Design in Commercial Arts and graduated in 1990. He also did Painting Course under some International fame artists. After graduation he worked for very reputed Ad Agencies like Mudra Communications and Projections in Ahmedabad.
He has mastered in serigraphs, miniature paintings, portraits, drawings and did various experiments in his own style.
The theme he has adopted at such a young age is unbelievable. It is based on Shree Krishna's divine Sports and also based on various Hindu Mythology books like Shrimad Bhagavat Purana etc.
Arguably he is the only person to create this theme in the form of paintings in the 523 years history of Shree Vallabhacharyaji's Pushti Sampradaya.
Pranay's paintings are a mix of traditional with the contemporary infusing a dash of modernity to deep spiritual concepts. The fresh and rich traditional bright color combination makes his paintings different. Currently works and lives in Vadodara with his family.
Solo Exhibitions
2014 – Inhabit, Hyderabad
2013 – Splatter Studio, Vadodara
2012 – Taj Art Gallery, Hyderabad
2012 – Muse Art Gallery, Hyderabad
2010 – Sarjan Art Gallery, Vadodara
2010 – Kalavithi Art Gallery, WZCC, Udaipur
2010 – Ravishankar Rawal Kala Bhavan, Ahmedabad
2009 – Sukriti Art Gallery, Javahar Kala Kendra, Jaipur
2009 – Mantra Art Gallery, Ahmedabad
2009 – Hotel Grand Bhagwati, Ahmedabad
2009 – Faculty of Fine Arts, Vadodara
2008 – Hirji Jehangir Art Gallery, Mumbai
2002 – Bharuch
2001 – Sanskriti Hall, Vadodara
2001 – Sarjan Art Gallery, Vadodara
Group Exhibitions
2016 – 4th Jaipur Art Summit '16, Jaipur
2015 – JKK, Jaipur Art Summit '15, Jaipur
2015 – White Sanctum, 108 Ganesha Travelling Show, Bengaluru
2015 – Casso-301, Vadodara
2013 – JKK, Jaipur Art Summit '13, Jaipur
2012 – Faculty of Fine Arts, 12*12 = 144 Artists, Vadodara
2012 – Faculty of Fine Arts, Vadodara
2011 – Baroda Museum Gallery, 11-11-11=11, Vadodara
2010 – Amdavad Ni Gufa, Ahmedabad
Artists Camps
2010 – Shilaj, Navdeep Pratishthan, Ahmedabad
2009 – Art Village, Navdeep Pratishthan, Saputara
Publications
DIVINE PLAY – A Book Based on Research in Vaishnava Paintings and Philosophy
Appreciation Letters
Quotes from Eminent Artists and Personalities
"Pranay Goswami is doing serigraphs. The source of inspiration for him is Vaishnav texts and their references. He has depicted 'Sahasra Kamal' lotus with thousand petals, flute of Krishna, Giriraj. There are the motifs used in pichhawais and in paintings done at Nathdwara. Though he has strictly followed the literal references of Pushti Marg in consultation with old scholars, his serigraphs have a different quality. He has reinterpreted these motifs in his own way and suitable to the medium of serigraphs. I have liked his works, his choice of colors and reference to Krishna bhakti. I wish him success."
- Bhupen Khakhar
"By using certain forms and symbols from the classical, folk and tribal traditions Pranay Goswami has created his own symbols in a contemporary idiom. He has thus successfully provided a visual counterpart to some of the complex and abstract theories of the Pushtimarga sect. As such, this is the need to the day. These playful created serigraph paintings not only reveal the painterly ability but also the technical skill of the artist. My best wishes."
- Amit Ambalal
"The most important thing is that whatever creation is done. I believe it is not my creation but, it is His creation and He has perhaps used me as a medium and allowed me to create for Him in the form of paintings."
- Pranay Goswami